Hvorfor lukkede nattoget fra Danmark til Europa? Dukker forklaringerne op fra tågen?
Status i kølvandet på høring i den tyske forbundsdag d. 14.1. og foretræde for transportministeren i Danmark d. 20.1.
(Opdateres løbende)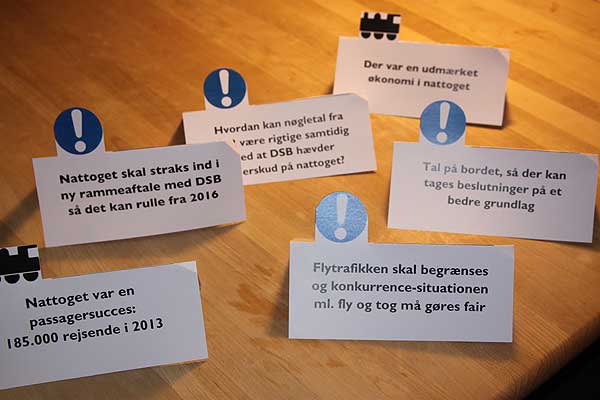 Disse skilte kom foran transportminister Magnus Heunicke.
Noter fra Rådet for bæredygtig trafiks foretræde d. 20.1. 10.15-10.45, afsnittet om nattog mv. (kun de vigtigste ting)
Ministeren nikkede indledningsvist til, at der burde være fair konkurrence mellem tog og fly i udlandstrafikken. Men jeg tror ikke, han i bund og grund har forstået konkurrence situationen. Til slut i foretrædet sagde han opmuntret: Når Femern åbner, sker der det største spring i trafikmønstret i meget lang tid, og det vil tiltrække operatører fra nær og fjern til at køre "fri trafik". Da jeg så sagde, at det måske ikke ville ske, fordi det måske ville blive for dyrt at køre den fri trafik på ruten, så flyene stadig ville vinde, så var han egentlig uforstående.
Når ministeren ikke forstår det, så tro da pokker at det også kniber andre steder i offentligheden. Der er basis for en oplysningskampagne!
Ministeren lyttede til, at nattoget fra Danmark havde været en historisk succes med høje passagertal og høj belægningsprocent. Ministeren lyttede også til, at vi var lidt uforstående overfor hvordan DSB havde beregnet sit påståede underskud på nattoget, når ministeriets tal fra 2012 siger, at tilskudsbehovet har været meget lille og er givet.
Ministeriet ville ikke lukke nattoget. Ministeren var netop blevet orienteret på twitter om, at DB havde brugt det danske ministeriums manglende støtte til nattoget som argument for at lukke det "danske nattog". Ministeren spurgte til, om der forelå oplysninger fra den tyske høring, hvilket jeg kunne bekræfte. Ministeren mente som jeg, at det var noget spøgelsesagtigt, hvad DB havde meldt ud, og han vil sørge for, at det bliver undersøgt.
I forhold til trafikaftalen med DSB siger ministeren, at han er positiv over for at fastholde nattoget i aftalen. Men det kræver to ting:
- at der er et politisk flertal, også for midlerne, i de forhandlinger, der er gået i gang
- at der lavpraktisk er en operatør, der kan/vil køre toget syd for grænsen
Ministeren lyttede til vores synspunkt om, at nattog og dagtog hører sammen. Men også hér er der et forståelses problem. For tendensen til at udbyde mere og mere trafik, og fremvækst af fri trafik går i retning af at se togtrafik isoleret i små kasser. Hvor køreplaner og billetter fx ikke hænger sammen, og hvor langsigtede hensyn ikke tæller.
Ministeren mente, at Femern giver en enestående chance for at få mere godstrafik på skinner. Vi pegede på, at det desværre også var en enestående chance for at der kommer mere lastbilstrafik. Men det punkt nåede vi ikke at afslutte med en konklusion sammen med ministeren.
Mine forsigtige konklusioner efter Heunicke og Berlin:
DB og DSB har ingen intentioner om at fortælle offentligheden sandheden om nattogenes økonomi. Det er civilsamfundet, der graver i sagen. Bid for bid kommer sandheden for en dag.
Det står fast, at både DB og DSB har forelagt forvrængede og ufuldstændige oplysninger om benyttelsen af nattog, specifikt også det "danske" nattog.
Det står også fast, at DB beregner deres økonomiske bundlinje for nattog efter at der er tillagt en profitmargin og afskrivninger. Det er sådan set i orden, når man tager i betragtning, at nattog og autotog hos DB er "fri trafik". Det er måske mere tvivlsomt, hvorvidt DSB regner på samme facon, idet DSB faktisk har hentet (begrænset) statstilskud via kontrakten frem til 2014.
Der er dertil fra DB's side formentlig fiflet ved en masse øvrige tal.
Hvorfor mon? Hvilke virkelige motiver har DB og DSB haft?
Der tegner sig dette billede:
Rammebetingelserne (energi-afgifter, stræknings-afgifter, arbejdstidsaftaler mv.) gør det svært at konkurrere med flyene. Og det har politikere og offentligheden ikke rigtig forstået. Og operatørerne klager mærkeligt nok ikke deres nød.
DB har især i 2013 lidt tab ved "harmonika" modellen ved nattogene, hvor en række sektioner af nattogene blev delt og samlet i hhv. Hannover og Mannheim. Det var året, hvor der i seks måneder var alvorlige driftsforstyrrelse i det centrale, østlige Tyskland pga det ekstreme højvande i starten af juni måned. Det var nok "dråben", der fik bægeret til at løbe over ved dette komplicerede puslespil.
De ældre dobbeltdækker sovevogne stod overfor en omfattende renovering, og pengene til dette (fra afskrivningerne) var forsvundet i regnskaberne.
Nattoget til Paris blev pga af dårligt samarbejde med SNCF urimeligt dyrt at køre i Frankrig.
En række andre forhold gør sig også gældende, som handler om forsømmelighed og modvilje mod drift af nattog og autotog. Se redegørelsen fra Joachim Holstein (på tysk). Samlet oversigt over bilag til den tyske debat.
Se redegørelsen til den danske transportminister, som Rådet for bæredygtig trafik har udarbejdet på forhånd til mødet d. 20.1.
NYT: Læs udskrift af hele den tyske høring! (tysk pdf)
>> Opsamling på hovedpunkter fra høringen i Berlin
Joachim Holstein beretter eksklusivt fra høringen:
the hearing has been a great success.
The transport committee had gathered in the largest hearing room due to the great amount (about 120-130) of spectators.
Seven experts have been asked about several issues concerning the night trains and car trains.
Questions came from all the parties in parliament, and many of them dealt with the legal framework and european issues.
- Taxes and tariffs: Germany puts 19 % VAT on international train tickets; sleeping car supplement is 19 % VAT (hotel: 7 %), takeaway food and drinks: normally 7 %, train 19 %. Railway has to pay energy taxes, track fees … whereas aircraft and bus transports are free of these expenses. All experts, including those invited by the government, emphasized the discrimination of railway transport. Even Mr. Gipp (who is a great friend of bus transport) wrote and said that with better conditions without discrimination, chances for night trains would be better.
- Passenger figures: Mr. Homburg of DB board of directors plainly admitted that the passenger figures are high and the trains are full; they do NOT have a problem of low demand but of high costs. He mentioned the taxes as above plus track fees in France and the cutting of subsidies in Denmark. He did not blame low passenger figures but made clear that DB's decisions are purely driven by economic reasons.
The representative of the consumer association stated that the needs of the public do not find enough attention in DB's politics and practice, for example: will a night train passenger be informed in case of delay? Couchette cars are not state of the art (220 V plugs, WLAN), dining cars are missed deeply, no breakfast included for couchette passengers. She pleaded DB to make a concept for better night trains.
Mr.Sauter-Servaes from Zurich and Mr. Kunze from Dresden emphasized the crucial points of their written statements: abolish the discrimination against night trains, do your homework and put neat and state-of-the-art trains on the tracks!
Mr. Kirchner of EVG trade union said that it is important to get night trains "out of the corner" or niche and see them (and treat them) as a substantial part of the long-distance train transport. Don't consider this just a German issue, but a European issue. The EVG trade union pleaded for a "night train summit".
I had the opportunity of exposing the issue of measuring passenger figures (occupancy rates are much higher than stated by DB), of accountancy manipulations (not considering 5,4 million Euro fees for taking InterCity cars in night trains) and of demonstrating the problems of people if there were no night trains: missing their connections, luggage transport, including bikes (I told them what DB says about bike transport between Copenhagen and Hamburg: via Esbjerg-Bramming-Tønder); technical problems which cause loss of money for DB and disturbance for passengers.
Mr. Homburg revealed that reservations on night trains are split in contingents for different companies/countries. So it happens that Germans are unable to make a reservation for car X because the places are under the "rule" of another train company, e. g. Italy. We have been very astonished to hear this - this is not 21st century but 19th century! Why on earth is there no single booking central with online access and realtime booking?
One expert (Mr. Kunze) blamed the lack of proactive upgrade offers on board. I mentioned that this is not possible because the mobile terminals of our staff are not online and beds/couchettes can still be booked during the trip via internet or at the counter. So we have to wait until passing the last station in the night - for example Hamburg - until we can sell free places in sleeping or couchette cars. Someone who got on board in Copenhagen had to wait for six hours until this decision could be made! Of course, nobody did that. Thus DB lost earnings.
Mr. Homburg said that within a few months we will get new mobile terminals which are online so that we can check the booking situation and, in case of a free space, we can sell the bed, and the central booking system will block this place.
All in all, a lot of large and small issues were discussed which have influence on the economy and the "feeling" of night trains. All of this favors the motion of the left party which says "give us enough time to elaborate a concept for the night trains".
Mr. Homburg had a talk with us after the hearing. He admitted that he has never used night trains. NEVER! We were thunderstruck, but he explained that he always has used day trains, even a a student and as a son of a "railroad family".
Nice move of DB to send someone to a hearing about night trains who does not know them by own experience.
During this talk, he said that they would start elaborating this concept as soon as they are convinced that they can gain money with the night trains.
We said that starting a new concept would be a part of the way to earn (instead of losing) money and that there is no time to lose.
It seems that DB needs a big push.
The transport committee will discuss the hearing in two weeks and will then decide about their recommendation to parliament. We will check with the left party about options of putting influence on this process.
And we make/continue contact with Fabio de Masi and Michael Cramer (german members of European Parliament), and the french M.P.'s who are in contact with Thomas Trieu and Geraldine Gay.
Jon Worth and Ellie Civjat have been present and had talks with us after the hearing, and we check with them, too.
Things are moving in Germany, and we will keep them moving!
Note that DB's Mr. Homburg did not repeat the former claim of "low passenger figures" on the night trains, including the Copenhagen train. We have stopped these lies!
Simon Field skriver fra høringen:
What was new or interesting? DB in the form of Ulrich Homburg was generally very cagey but did make the point that the economics of night trains are better when they are combined with domestic day trains, often the last/first IC of the day. The same principle applies to EuroCity day trains: 'on top' costs more than integration into domestic networks. Conclusion: you need suitable 'carrier trains' to reduce costs. Problem: there are fewer and fewer technically compatible UIC-standard carrier trains but ever more incompatible TGVs, ICEs, Pendolinos, etc. Even SBB is making life difficult here by ordering Twindexx trains to which you can't attach conventional coaches. Sorry it's a techy point, but it is a crucial one. Perhaps the Paris trains would still be with us if there were Corail carrier trains between Metz and Paris...
Alexander Kirchner from the EVG union said that a European-level approach is needed if we want to keep international trains. That was it on the subject of responsibility!
Matthias Gaestel challenged DB on the difficulties of booking night trains but Homburg pleaded ignorance of the problem! To another question on the measures needed to rebuild a sustainable night train network there no was no answer at all (at least partly down to poor chairing).
Joachim Holstein from DB ERS said that DB would lose 75% of its night train passengers to other modes, as a large number of these passengers travel with lots of luggage and/or kids and there are no direct day trains between many of the places formely served by CNL.
There was the usual discussion about framework conditions in the form of taxes and infrastructure usage charges for different modes, but no questions at all about DB's broad objectives and those of its owner. DB was sceptical that reform of the German track access charging system will make a significant difference to operating costs, but there was a claim from somewhere that lower charges in the night could reduce the deficit by 50%. Apparently the Bundennetzagentur is looking into the case for different charges by market segment.
>> Journalistisk sammendrag fra høringen