Thank you, you were all great!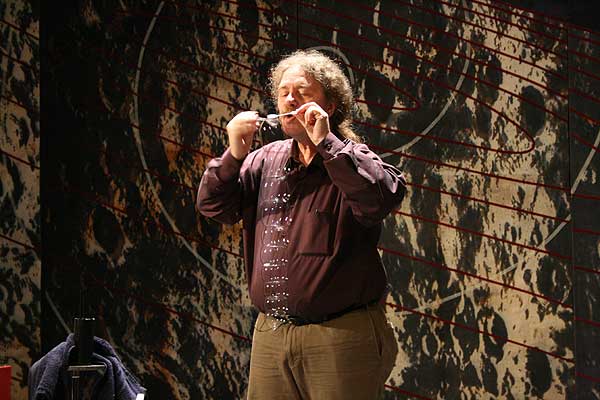 Tom Noddy on the Main Stage. His good old starter, the Caterpillar.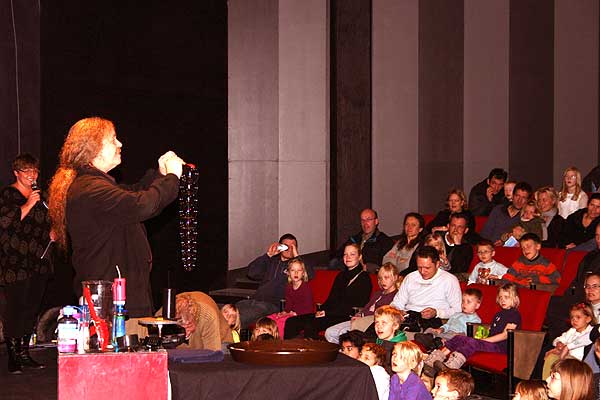 Like last year Helle did the difficult translation.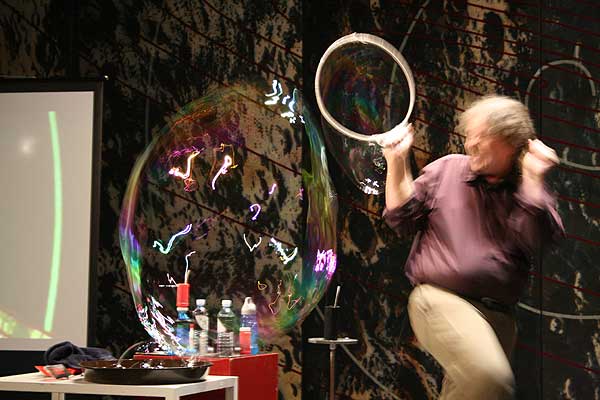 This year Tom introduced both a new fog machine, and some bigger bubbles...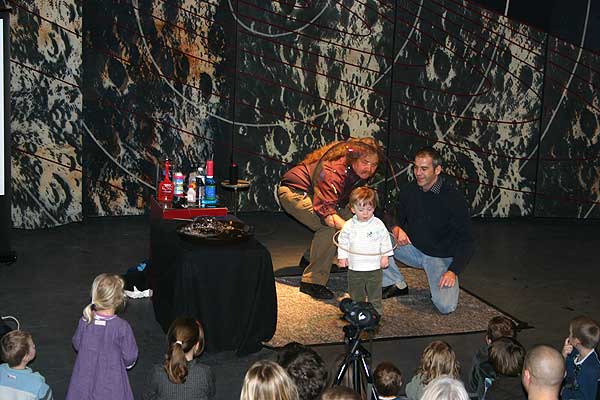 Small guests were invited to the stage, this little boy together with his proud father.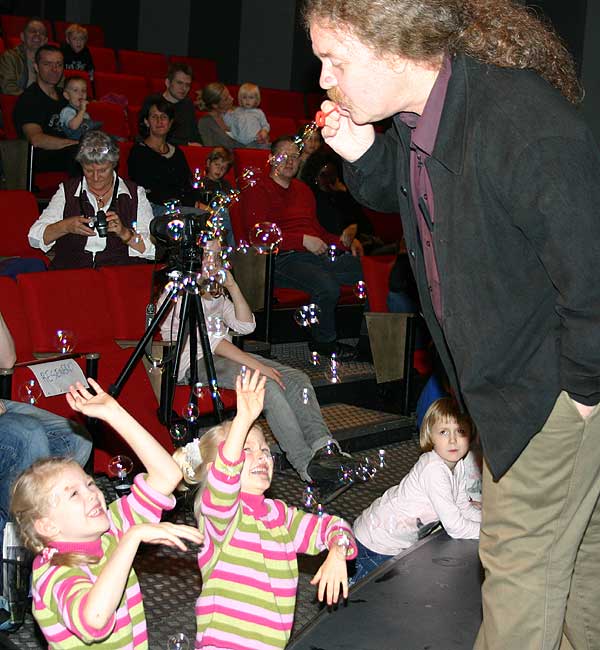 Tom is so good with interaction with the kids. Notice these twins just before a show takes off.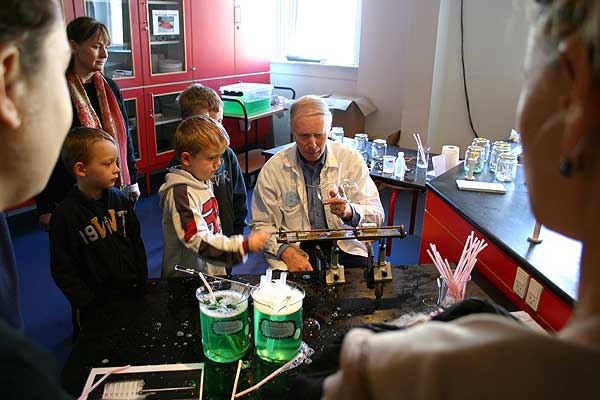 Göran Rämme was feeling well in the laboratory with a Danish assistant. Notice the excellent attention he gets during this experiment with two bubbles, which are going to join.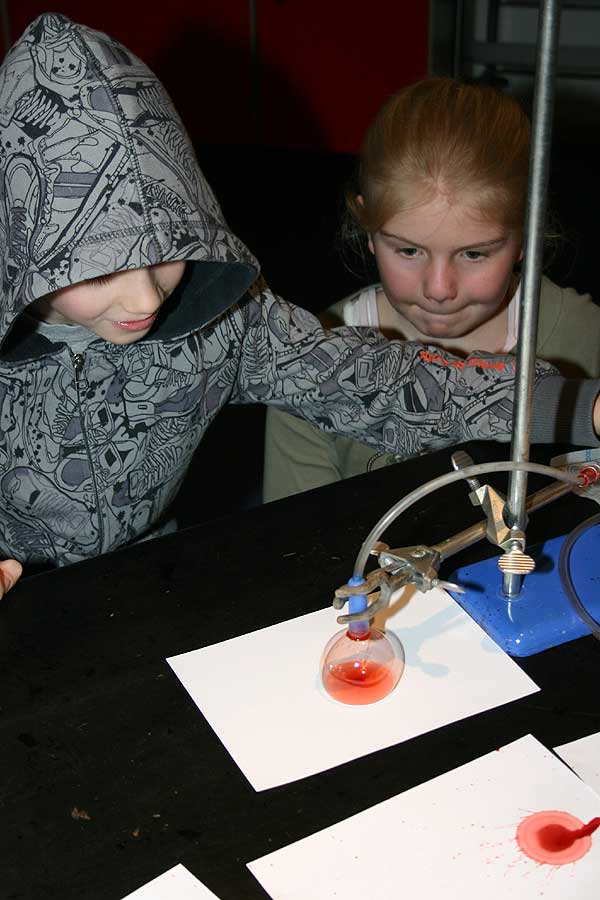 One of the most popular experiments in the laboratory with exploding bubbles. No doubt about the concentration and exitement with these two kids, doing the experiment all alone with great succes.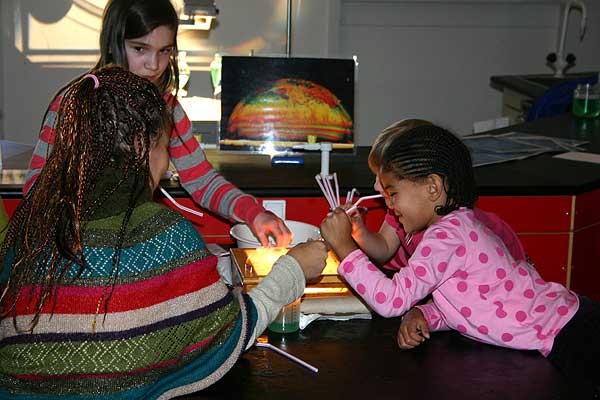 Kids studying the colors inside a half sphere large soap bubble.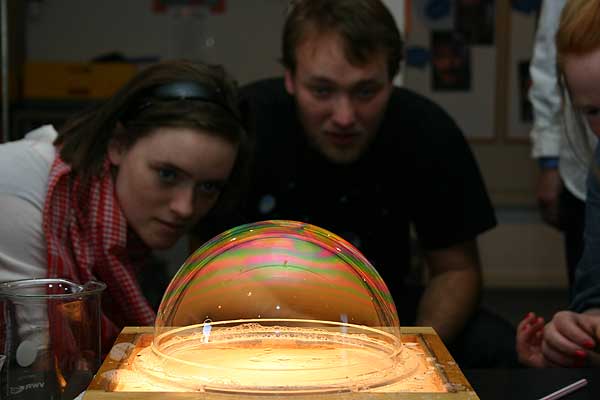 Oh, yes. Martin can no doubt see the joy in the same experiment.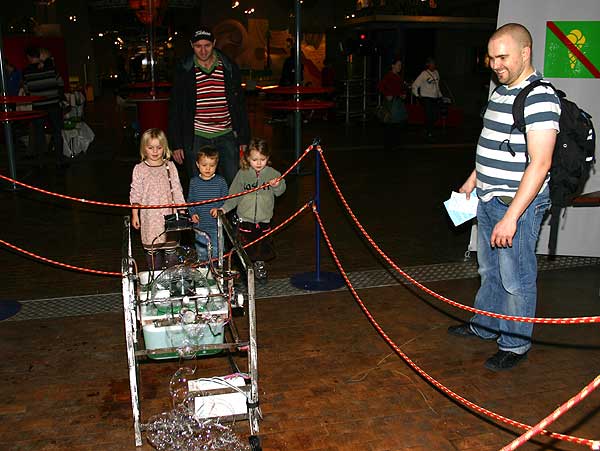 The soap bubble robot "Boblobotten" wellcomed people on the first floor.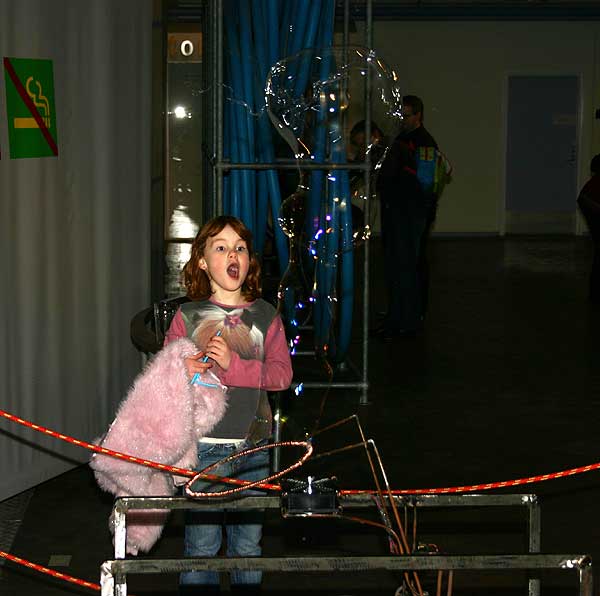 The robot could really surprise the audience.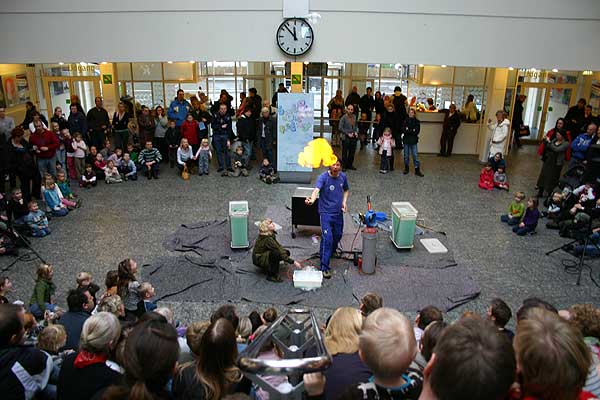 In the hall pilots performed the Soap Bubble Show Classic with large crowds.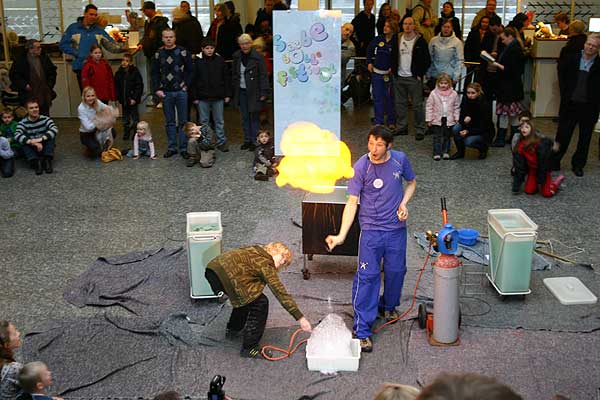 Dont say soap bubbles cant be dangerous. The poor boy is rather close to this Hollywood explosion - however the powerful sound was added by the rest of the audience.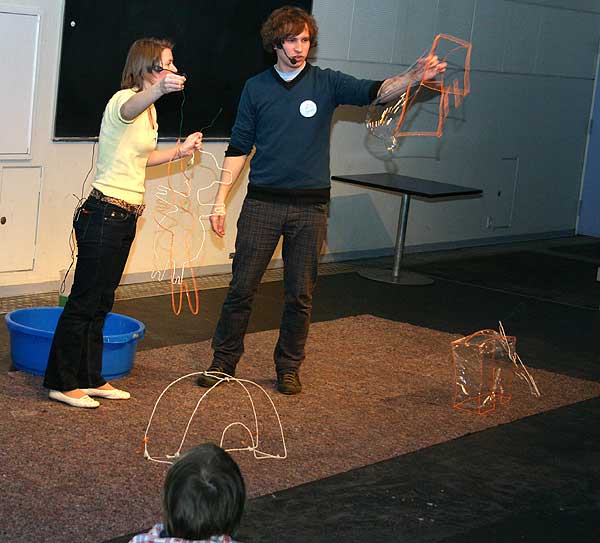 Ksenia and Lennert perfomed on the Small Stage with their story about soap houses, the three little pigs and the big bad wolf.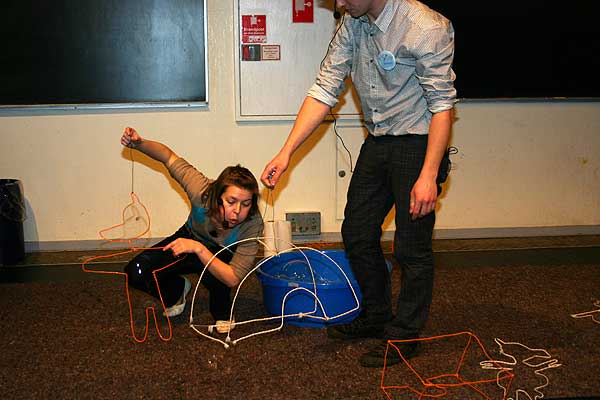 The bad guy could easy blow the lazy pigs houses apart. But the wolf finally drowned in soap bubble solution...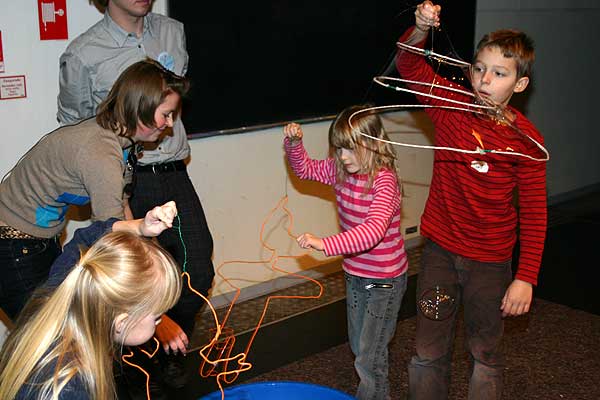 After the estonian show kids came forward and played with the interesting figures.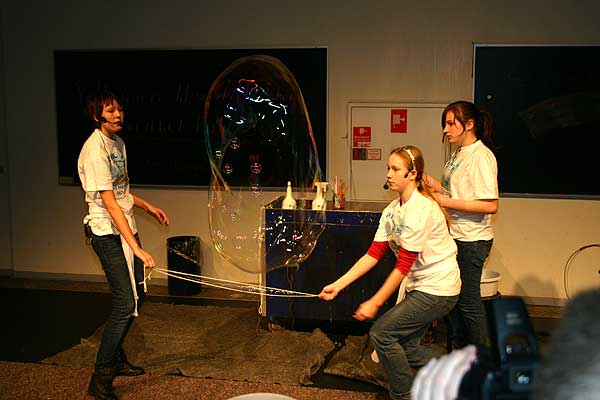 At another time on Small Stage three girls from Kirke Helsinge School performed. Notice their fine, huge bubble with small bubbles inside!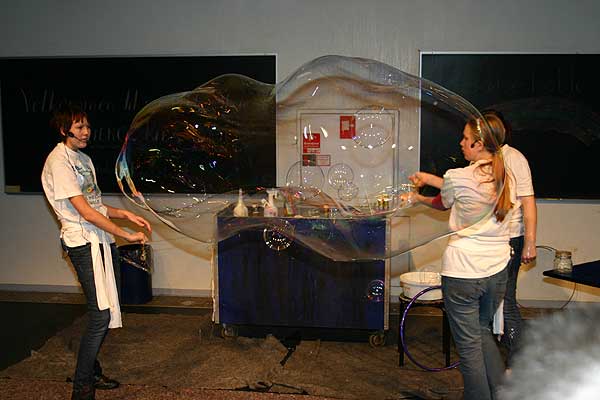 Again and again they could make the big bubbles.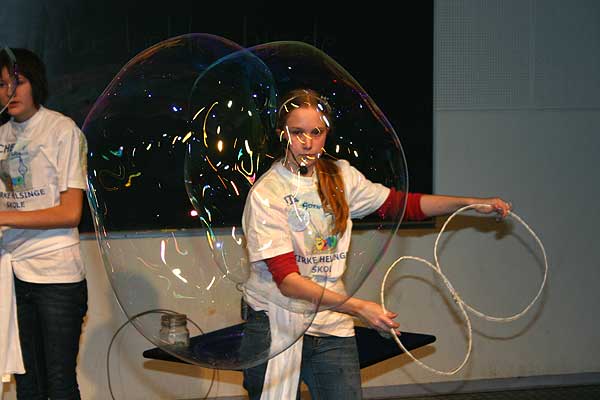 Twin bubbles were also included in the girls presentation.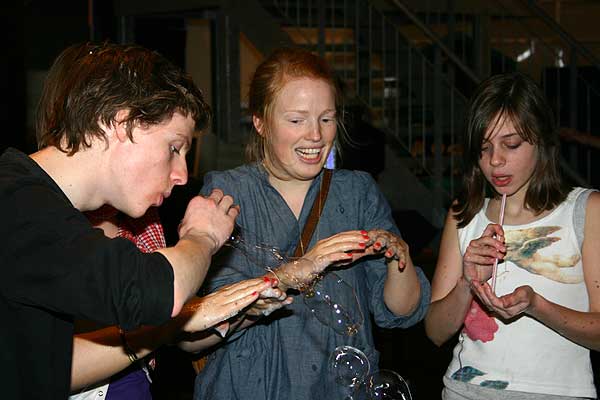 A lot of soap bubbles were blown along the main walkway on first floor.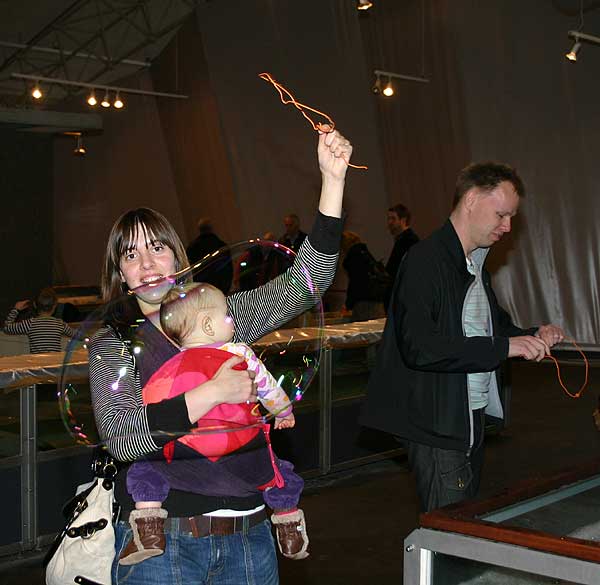 A good mother cannot start too early to show her baby how to make big soap bubbles.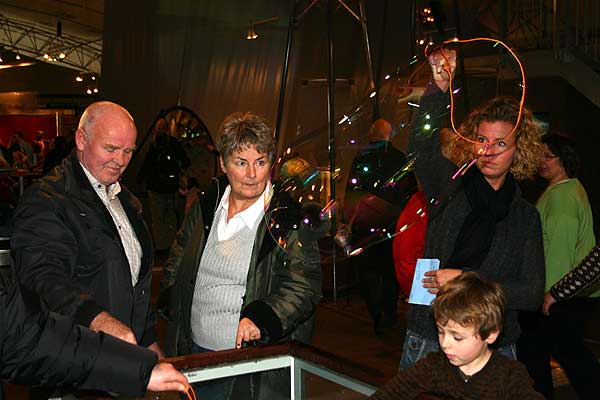 All ages involved them self in the fine art of soap bubbles,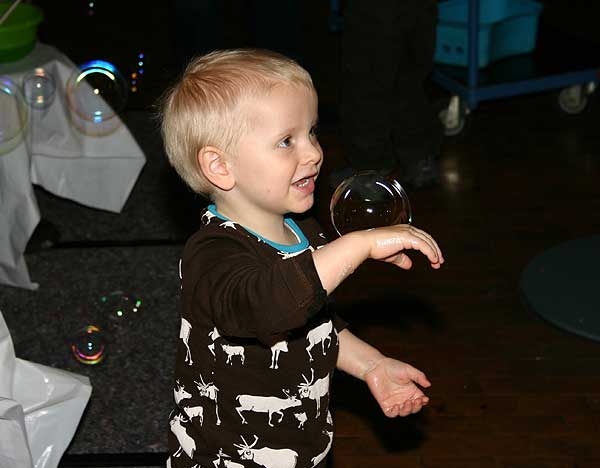 but most amused were, naturally, small kids, like this boy, who proudly present his bubble to his father.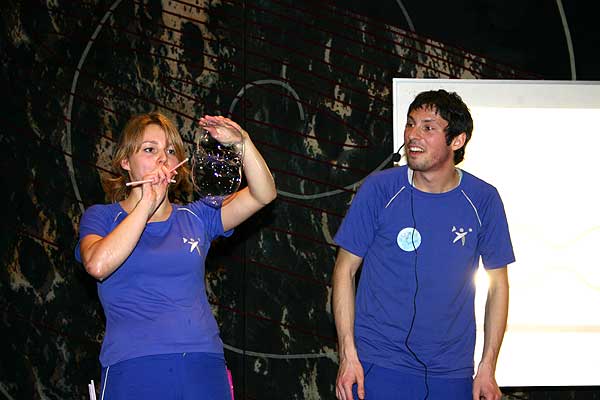 On Main Stage Experimentarium pilots presented the revised "high-end" soap bubble show. Here with a caroussel.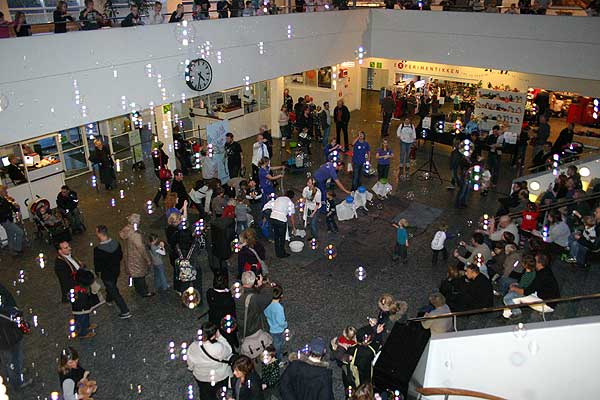 Last, but not least, all stars final in the hall right after 4.30 pm. (Honestly Tom was still on stage at this time Saturdy - so they missed the event).